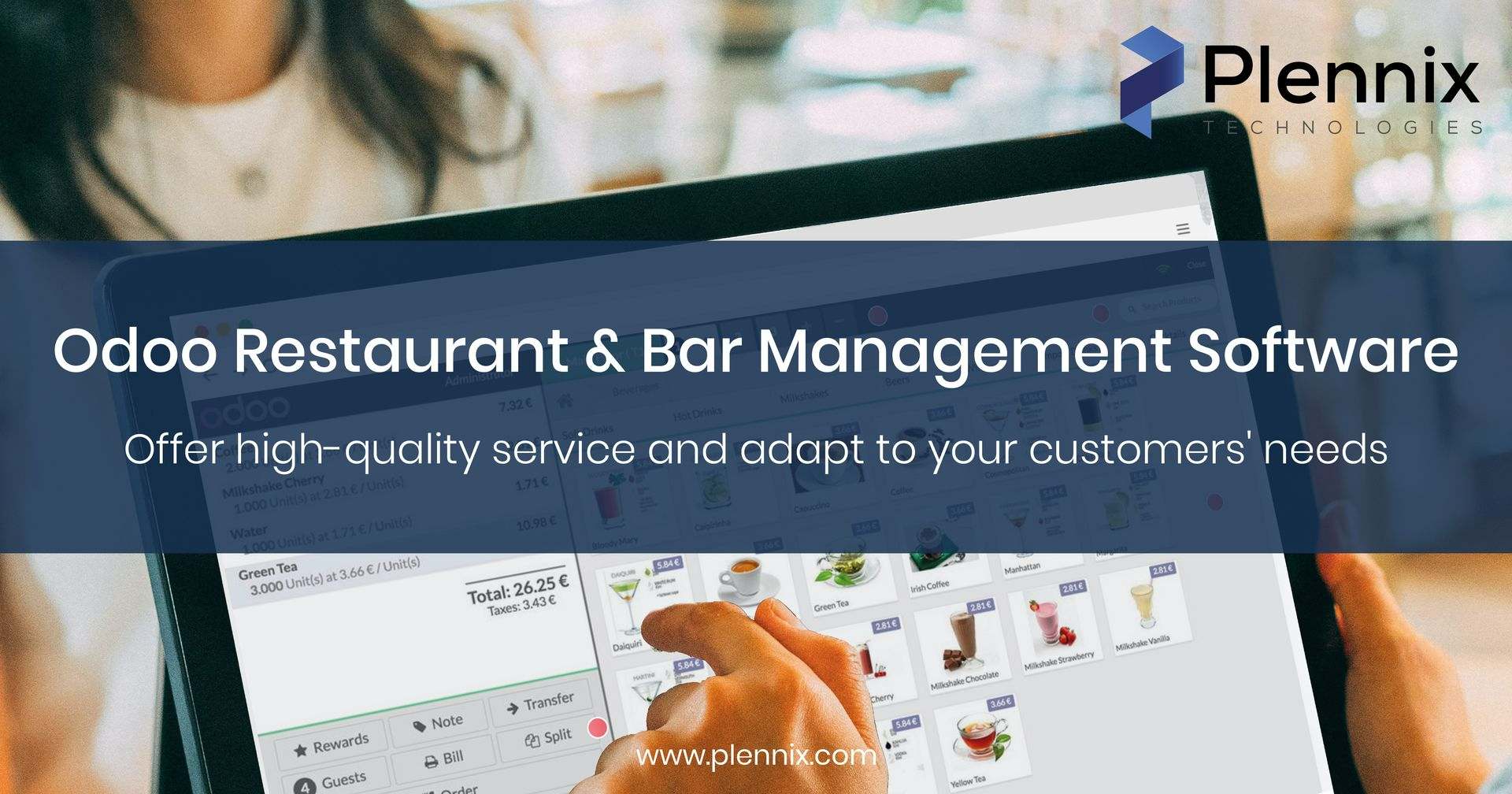 Effortlessly manage your restaurant/bar operations with Odoo ERP. Streamline processes, prioritize customer care, and eliminate errors. Odoo's specialized tools for restaurants, bars, and food deliveries ensure seamless daily business operations. Say goodbye to redundant data entry, prevent mistakes, and enjoy automated inventory updates through our integrated system.
Point Of Sale
Use your POS offline
 Have a nice POS for your waiters/cashiers
 Have a nice POS for your delivery center agents
Generate Arabic/English Receipts
Manage your floor plans & tables
 Add your customers info
Manage loyalty & promotion programs
 Have a nice POS for your kitchen chefs
 Integrate your POS with your call center
 Order through barcode
 Add your products & ingredients
 Manage your orders: table, online & delivery orders
 Manage payments & bills
 Manage your kitchen orders

 Plan & schedule your production
 Manage your assembly lines
 Check your bill of materials & recipes​
 Check item versions & ingredient changes
 Manage your food quality
 Maintain your kitchen equipment
 Manage your drivers & fleet
 Monitor your drivers' location through GPS
 Assign delivery orders to drivers​

 Give the driver the ability to update the order status
 Track your delivery status​
Stock & Inventory Management

 Manage your warehouses & locations
 Monitor your stock move & replenishment
 Use inventory valuation & costing methods​

 Handle product expiry date & scrap locations
 Use barcode & tags
 ​Benefit from a full traceability & reporting

 Manage your multi-entity chain
 Use a multi-currency system
 Use a country localized accounting

 Manage your bank, cash & assets
 Generate financial reports
 Handle your taxes & VAT

 Have a beautiful website
 Enable online ordering
 Enable online table booking
 Use email & SMS marketing & promotions ​

 Market yourself on social media
 Create & manage surveys
 Manage customer complaints

How can plennix technologies be helpful?
Plennix Technologies, the Odoo Gold Partner, brings enhanced operational capabilities to the platform for your business needs. Odoo offers a customizable platform, and our expert service providers can assist in configuring and optimizing restaurant or bar operations within Odoo. With the expertise of Plennix Technologies' skilled developers, your restaurant or bar can be tailored precisely to your business requirements on the Odoo platform.