Using the operational terminologies of the company, users of the Odoo project management platform may create and manage both long-term and short-term projects. The user will be able to assign employees to a project and manage them successfully for the term of the project with the help of this efficient management tool. The project management dashboard serves as the user's main interface, allowing them to oversee all project operations.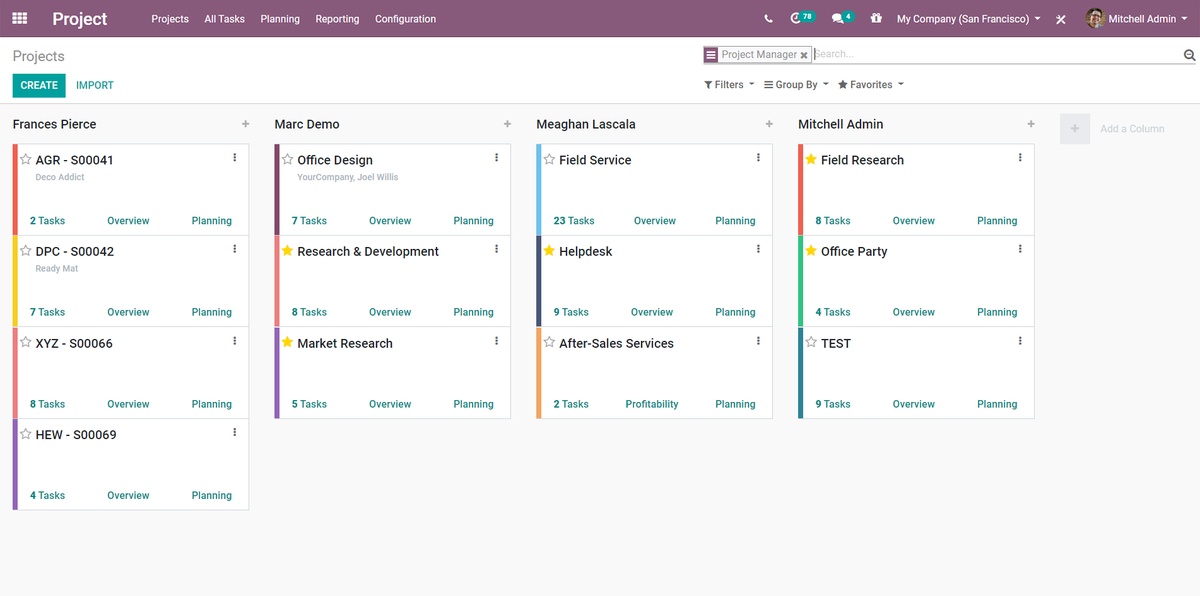 modern and intuitive user interface

What you need, the way you DESIRE!
ORGANIZE

An organized and effective overview of your projects.

SCHEDULE

A clear calendar view to keep track of due dates.

Plan
Set aside enough time for specific tasks under a planned shift.

ANALYZE
Produce reports and conduct analyses.

Features of Odoo Project Management

Customizable
With Odoo's project management, businesses may personalize every project's workflow and automate emails, rename stages and alerts in accordance with certain business activities.

Filters and Groups
It offers intelligent filters that make finding tasks and issues simple. Businesses can use multi-level grouping to analyze data.

Customized Kanban View
Tasks can be simply moved about with the kanban view for businesses. They can alter the significance of tasks and issues and create specific stages per project. Businesses can specify the process using custom tool for each stage and even create tasks from the sales order.

Gantt Chart
The Gantt chart view allows businesses to manage tasks on a timeline. It is the most convenient way to keep track of deadlines and timeline progress.

Multi-project

Businesses are able to operate simultaneously on one or more projects. They can even conduct searches and analysis across many projects.

Graphs

The project management module in Odoo offers graph charts to help with task progress analysis.

Pivot Table Analysis
Businesses can use pivot tables on tasks to conduct in-depth statistical analysis on the performance of specific projects.

Email Integration
Businesses can use Odoo project management to communicate with existing and potential customers via email. They have complete visibility because all of the information is attached to the issue.

Automate Actions
Triggers can be used by businesses to send automated emails based on various statuses, such as customer satisfaction surveys and ticket confirmation.

Real-time Collaboration
Odoo project management enables businesses to use the etherpad integration to collaborate on tasks in real-time with multiple users.

Activity Log
The activity log attached to each task provides businesses with a detailed history of all document activities.

Forecasts
The Gantt chart allows business associates to easily forecast projects and resources while accounting for employee leaves. Forecasts and real-time sheets can then be compared by associates.

Customer Satisfaction
Every time a business associate closes an issue, they can use the customer satisfaction rating survey to get feedback from customers. Following the completion of each milestone, an automatic email is sent to the customers, and direct feedback is received.

Post-sale Services
In the kanban view, businesses can easily manage after-sales service requests and configure a customized process.

Dashboard
Businesses can use pre-built dashboards or create their own with the advanced reporting engine.

Project Overview
Businesses can see the most important project information at a glance, including billable hours, time forecasted, and time spent.

In the end the Odoo app will give you many sets of examples, like software development, agile, consulting, website redesign, etc. You may efficiently keep an eye on client project activities by using this functionality. By sending emails to your email alias, this function enables managers or clients to immediately create a business.
GET IN TOUCH WITH PLENNIX TECHNOLOGIES FOR MORE INFORMATION ON AVAILABLE SOLUTIONS!

CONTACT US