Odoo is developing by the day. Over the past few Odoo versions, we have seen some serious modifications in the overall performance and user interface of Odoo. With the introduction of Odoo 16, the whole system is evolving to a whole new level of sophistication and performance.
Knowledge Application
Odoo 16 comes with a new intuitive app named Knowledge. This app allows you to create or duplicate articles and their hierarchy to share your company knowledge and even make it customizable by everyone internally.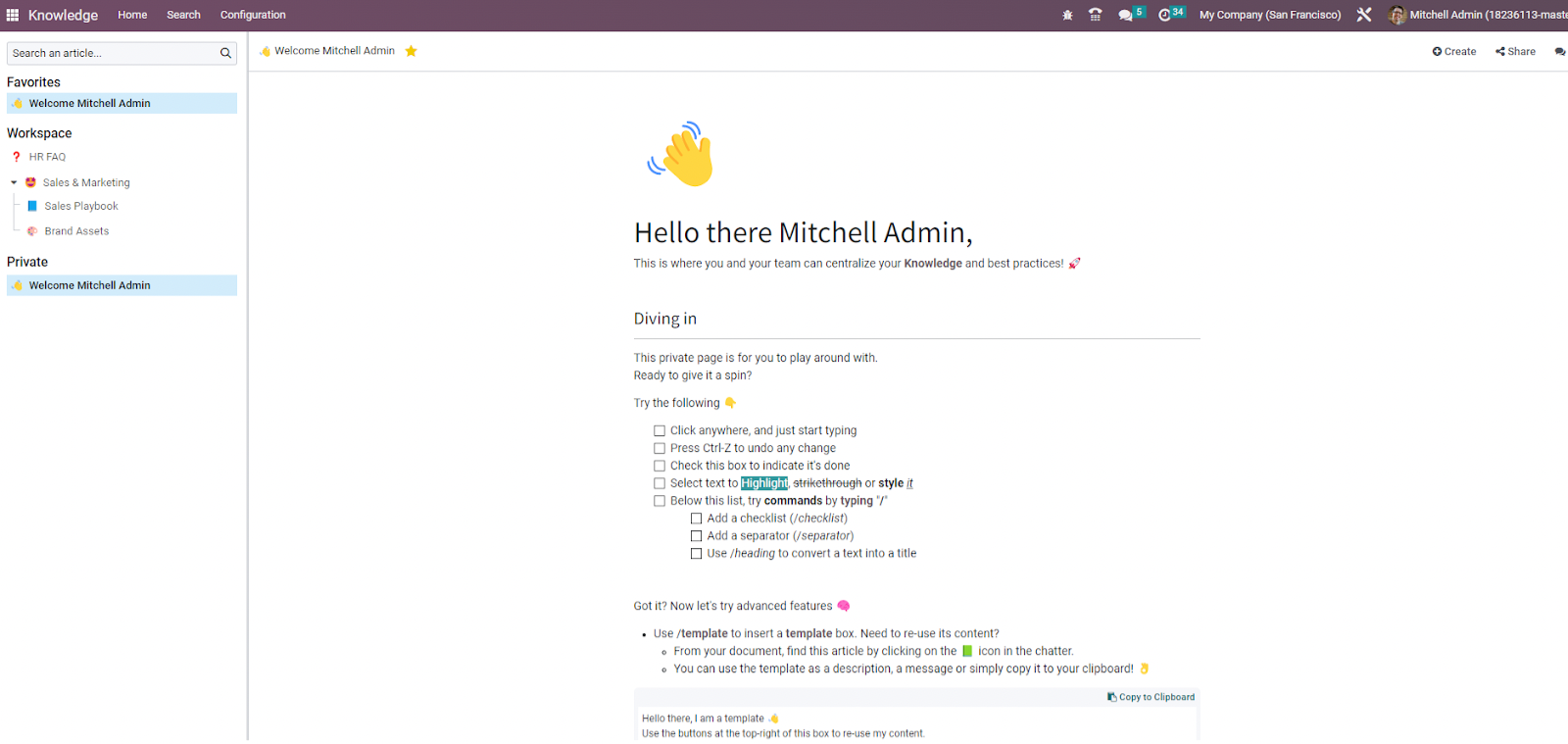 UI/UX Changes
The UI/UX of Odoo environment is much more enhanced with time savers and modern tweaks. 
With Odoo 16, toggling between screens will be simple, also it will be a new Chatter UI.
Code Cleanup
In Odoo 16, the focus will be on optimizing performance and eliminating and refactoring the code base.
Community Responsive Design
The community design of Odoo seems old. Everybody is griping about it.
Users of Odoo who depend on the Odoo Community and OCA modules for their business frequently ask for this.
You will like the responsive, mobile-friendly UI with modern design if you are running Odoo community v16.
Improved eCommerce
The eCommerce app has been improved and now offers functionalities that Odoo lacked when using only native apps. B2B businesses will like : Call for Price, Only logged-in users can see prices, Demand-based pricing, Support for catalog shops, Contract pricing and approved items.
Additional advantages include ones like: Bulk Upload of Photos, Change the order of the photos after upload, Faster eCommerce checkout, Comparison price, UOM display.
 Sales Reports in Multiple Currencies
In Odoo 16, sales reports will be multi-currency aware, and you may dynamically revalue all sales based on daily exchange rates.
Upgrades to Accounting
New Accounting Firm mode: There is a new "Accounting firm mode" for you if you are using Odoo 16 to manage the books and accounting of your clients.
The document level operation of each document's sequence is altered by this new mode.
Additionally, it adds a new field called "Total, Tax (inc.)"
Discover Holes in Sequences: A new "Smart Alert" will be added to every journal. It is simple to navigate to the previous document before the hole. By using the "Resequencing" wizard, holes can be quickly corrected.
Alterations to fixed assets: You may quickly cancel and asset in Odoo v16, Reverse entries will be made if the GL entries are locked, It will stop being posted if the GL entries are unlocked, Selling the asset is another method for changing the depreciation.
Improved tenders and procurement
Odoo 16 includes a better call for tenders feature: Create and maintain PO alternatives quickly, Evaluate arrival and cost by lines, Divide PO among Vendors based on Best Offers and Options.
Dependencies on Work Orders in Manufacturing
You can now specify the order in which work orders should be executed in Odoo 16. It can be activated for each BOM.
Check the status of deliveries and receipts
To improve the tracking of your sales and purchases, new fields are being added to Odoo Sales (Delivery Status) and Purchases (Receipt Status).

Rental App goes online
Currently, online rentals are possible (very useful for renting cars and similar).
The days that are suitable for pickup and delivery are up to you.